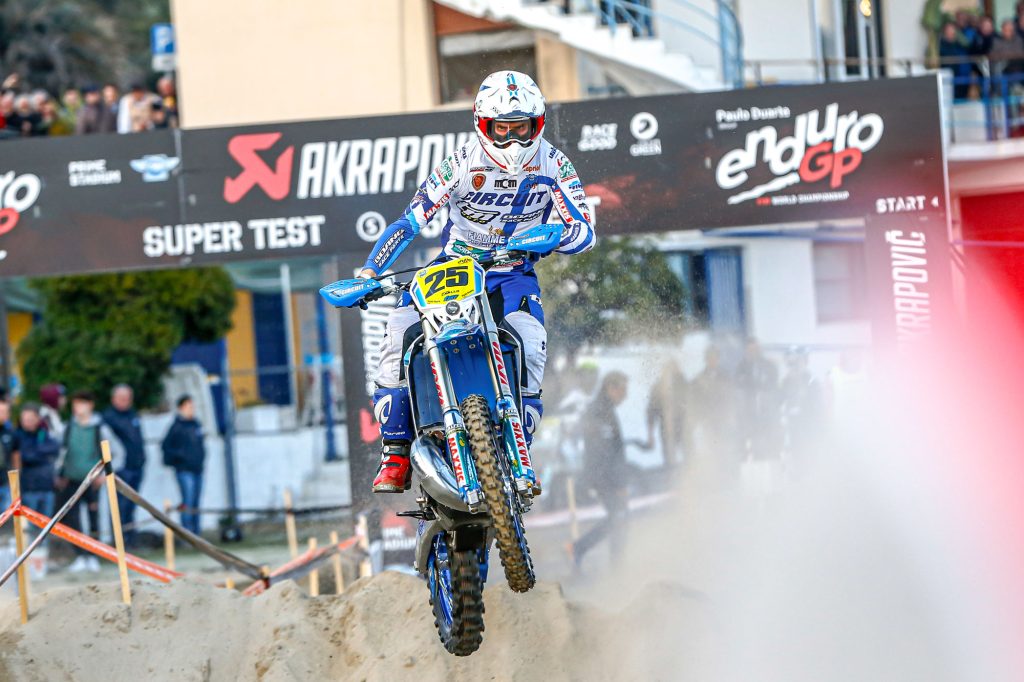 MATTEO CAVALLO ON THE PODIUM IN E3 CLASS
The first round of the 2023 EnduroGP World Championship took place this weekend (1-2 April) in Italy and more precisely in Arma di Taggia (IM), a seaside town a few kilometers from the renowned Sanremo. The Motoclub Sanremo, organizer of the event, managed to put together a high-level race from all points of view.
The weekend of the Italian GP got underway on Friday 31 March with the exciting inaugural parade which brought riders, the public and insiders from the Arma di Taggia paddock to the Sanremo Casino where the inauguration ceremony of the Italian GP which was followed by the long-awaited Super Test on the main beach of the city packed with spectators (over 10,000 people estimated!) which officially kicked off the race weekend and the 2023 EnduroGP season.
The Italian leg then continued over the next two days of racing under the banner of good weather, an incredible number of visitors, estimated at over 30,000 people, throughout the weekend, and a very technical and treacherous race course. 43 km ride with three special stages to be repeated four times a day for a total of 24 stages in two days.
Excellent performance for Matteo Cavallo in the E3 class. Matteo ran an excellent first day of competition by also recording the best time in the E3 class on the second pass of the cross test. For him a third place on the opening day while on Day 2 he was unable to go beyond the fourth position due to an error during the third passage to the enduro test. Also in the Enduro GP Matteo Cavallo conquered the top ten on the first day of competition, finishing in eighth position.
Daniel Milner in Arma di Taggia collected a fifth and a sixth place in the difficult E2 class. The Australian driver at the world premiere raced a regular race without ever making serious mistakes but a little below expectations. Surely the slow and technical special stages didn't favor his riding style.
Good performance for Matteo Pavoni on his debut in the E1 class. The score of the rider from Brescia after the long Ligurian weekend is two sixth places in the E1 class, a second place in the Super Test on Friday evening and many excellent times in the Cross Test. Now we need to work to get a better final position of the day .After the inaugural race of the season, the FIM EnduroGP World Championship stops for a month to then return to the Spanish GP on May 5-7 in Lalìn for the second round of the 2023 season.