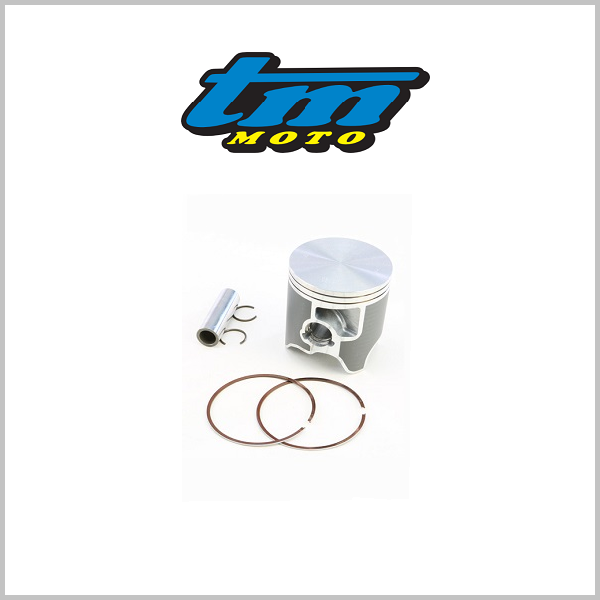 Piston & Ring Renewal: 2T
Piston & Piston Ring Clearances
When you change your piston and piston rings please take note that the piston rings are all the same size, even if the piston itself is a different diameter. You must ensure that every time you change / replace a piston ring that you must check the piston ring end gap and adjust if necessary.
TM recommends piston ring end gaps of:
85/100 – 0.30mm
125/144 – 0.40mm
250/300 – 0.60>0.65mm
Piston to cylinder wall clearances – based on an 'A' size piston:
85/100 (47.87) – 0.07mm
125/144 (53.94 / 55.94) – 0.06mm
250/300 (66.33 / 71.93) – 0.07mm
Pictured below are images from the user/maintenance manual on how to change a piston in a 250cc/300cc engine and set the correct piston ring end gap. The same theory applies to all piston / piston rings for all engine displacement, only the gap will differ depending on model.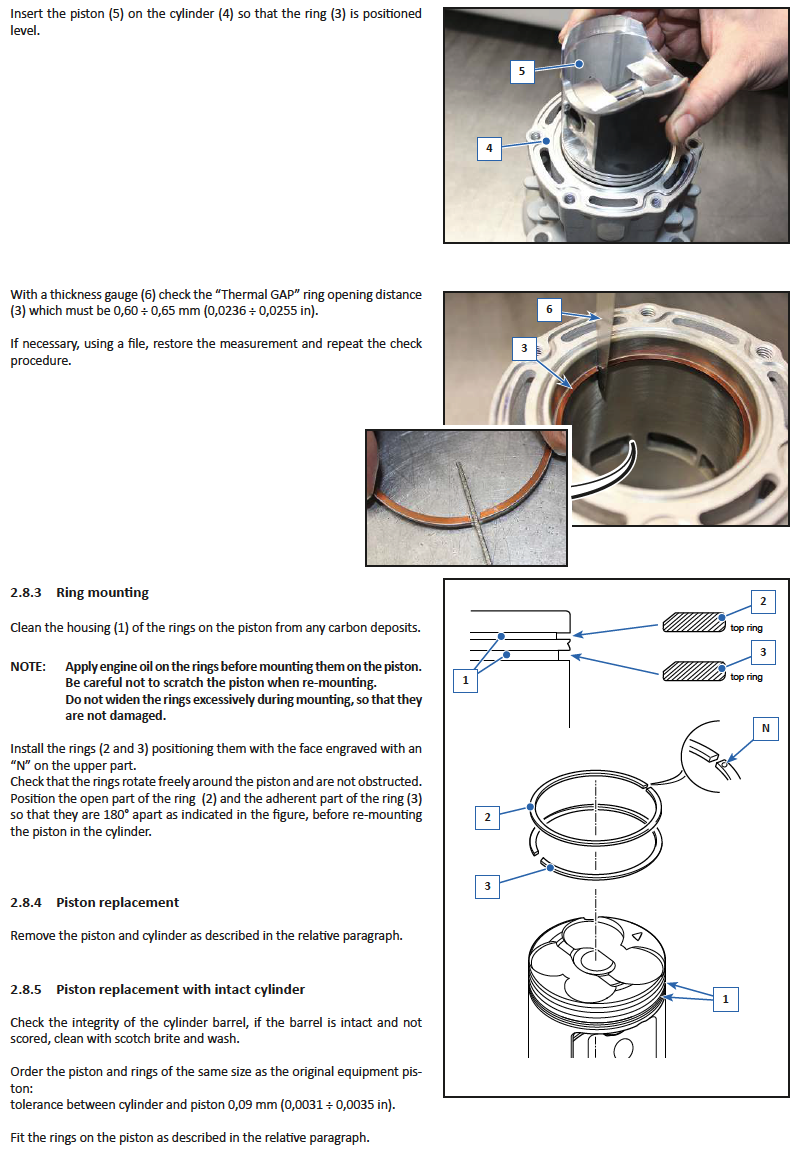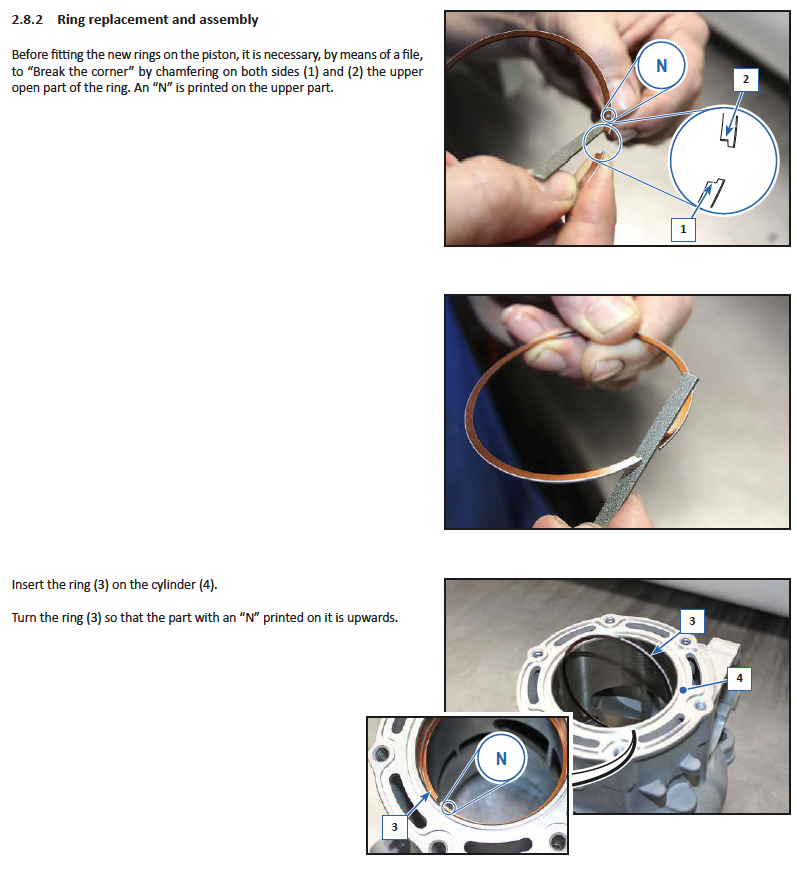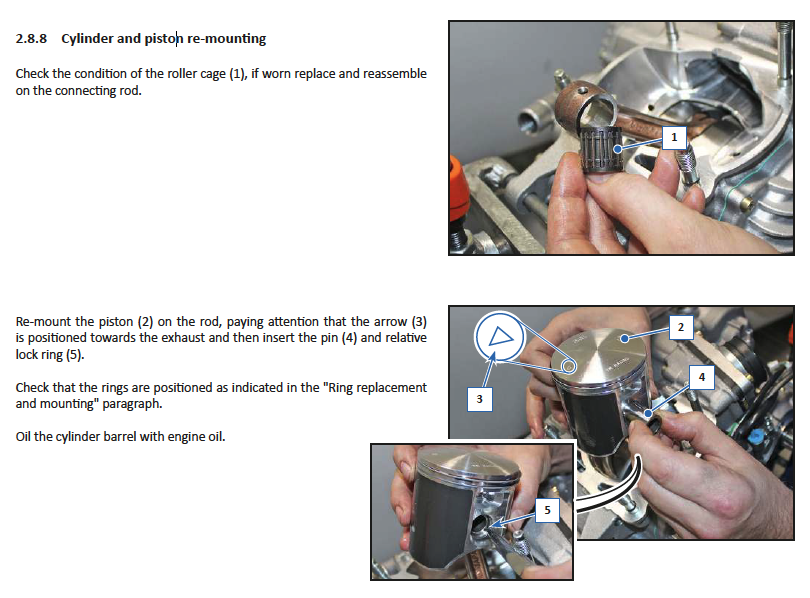 Squish Settings:
TM Moto engines are assembled by hand and during first production each and every engine is checked by the TM Moto staff to ensure that the correct squish is set at this time. This is achieved by using cylinder base-gaskets of varying thicknesses (0.1mm increments) to allow changes to the cylinder 'height', ensuring near-perfect squish measurements and 'port timing'.
When rebuilding your TM Moto engine we advise that you measure the original base-gasket thickness and replace with the same size. With modern production and machining processes there is only a very tiny 'production' tolerance given to any and all components, so small in fact that even after a complete engine rebuild and changing of most of the internal parts (main bearings / con-rod / piston) that, providing the crankcases and cylinder are also original, the difference in overall 'height' that could affect the squish / port timing is negligible and would not even be able to be altered in 0.1mm increments to make any material / noticeable difference. Only in the case of 'engine tuning' – which we do not advise unless being undertaken by a professional engine builder  'tuner' – or, if a cylinder was to be replaced would the base-gasket thickness really need to be altered, even in the case of a new cylinder being fitted the original thickness gasket may still apply. 
NOTE: TM Moto and TM UK recommend the use of original TM Moto spare parts only.  Engine damage / Failure may result when using spurious parts.
Below are some 2-Stroke engine settings supplied by TM Moto for various models – click to download