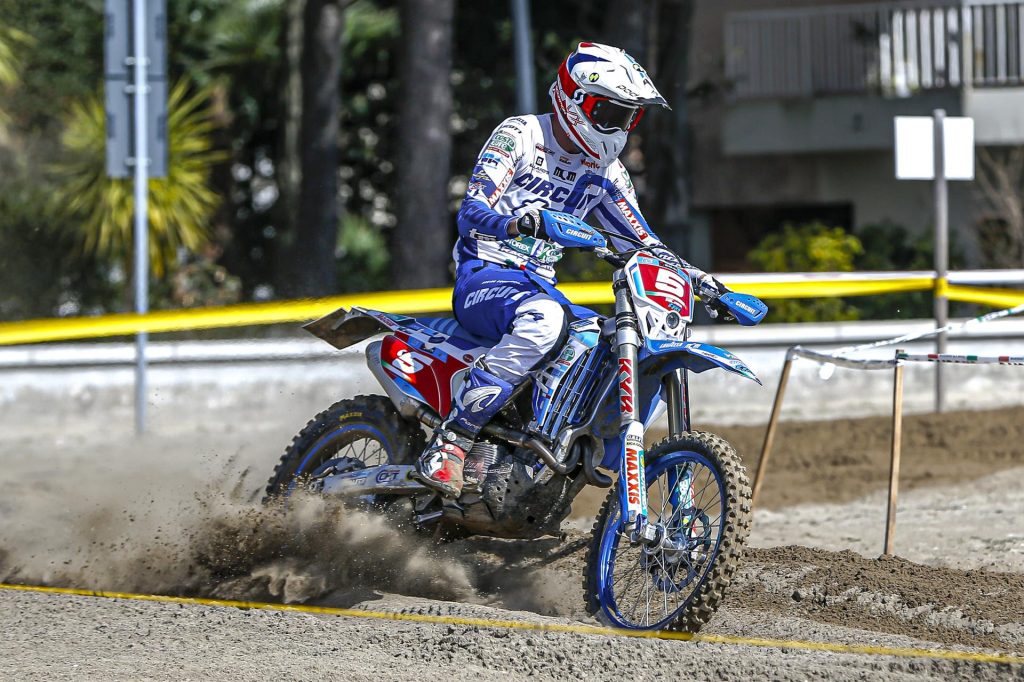 MILNER GOOD IN THE OVERALL, PAVONI AND CAVALLO SECOND IN THEIR CLASS.
The second stage, valid as the third and fourth round of the 2023 Italian Enduro Assoluti, was held on Saturday 18 and Sunday 19 March in Grado, in the province of Gorizia, in the setting of a picturesque seaside town with Venetian and historic charm tourist destination and spa near Trieste.
The race weekend took place under a warm spring sun in the presence of a large audience of enthusiasts who were able to immerse themselves in the enduro atmosphere and enjoy the race skillfully designed for the occasion by Motoclub Grado and in which they battle our pilots.
An eight-shaped course with four not very insidious but extremely fast special stages to be repeated for four laps per race day for a mostly flat race course of about 30 km.
Excellent performance for Daniel Milner who collects a fourth and fifth place finish during the race weekend after a heated fight for third place on both days. Daniel is finding the feeling with his new TM 300 4t and the improvements can be seen from race to race.
In the 300 2T class Matteo Cavallo (TM 300 2T) concluded, in both days, in second place. On Day1 the Piedmontese rider made a couple of mistakes losing several seconds, while on the final day he fought to the last breath for the first position, missing in the end by just 0.05 seconds!! Matteo after four days of competition retains the first position in the Championship.
Also in the 250 4T class Matteo Pavoni (TM 250 4T) closed the race weekend with two second places in the class. The rider from Brescia has an excellent feeling with the bike and on the second day of the race he finished just a few seconds behind the winner, winning some special stages. With these results Pavoni confirms his second position in the championship.
Deny Philippaerts (TM 250 2T) rode an excellent first day of competition finishing third in the 250 2T class. On the following day, however, a few too many mistakes excluded the TM driver from the fight for the podium. Philippaerts now occupies the third position in the championship.
The Circus of the Italian enduro stops for over a month to make room for the inaugural race of the EnduroGP world championship next 1-2 April in Arma di Taggia (IM).The fifth round of the maximum Italian enduro championship is instead scheduled in a single race on April 23rd in Fara Filiorum Petri (CH).
Jarno: "We are on the right track, we still need a bit of work to be at the top but we are working on it. I am satisfied with this race, more than with the results, with the approach they had and with the improvement in the times between the first and second day."